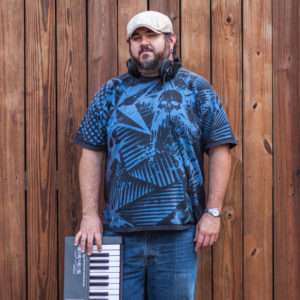 Groove Logic
Adam Vinsant aka Groove Logic is the owner of Groove Logic Productions and Is also the founder and lead engineer at BlockTunes. He is a long time DJ, producer, and sound engineer who has been a part of the music industry since the age of 15. Coming from a family with a musical background, he picked up the ear for good music at an early age. Started playing guitar at age 13 and also learned bass guitar at 14. Influenced early on in the rock and industrial scene, his influences include Nine Inch Nails, Tool, Metallica, Primus, Pink Floyd and many more. In 1996 he began the journey into technical sound study and started assisting with sound and lights in local churches and large concert venues. He also worked with several DJ companies performing at weddings, proms, corporate and private parties all over the Southeastern US.
In 1998, Adam found the world of electronic music and Groove Logic was born. After playing a variety of events over the years, in 2007, he started working with Fine Spun Productions assisting with show production in Birmingham, AL and across the Southeastern US. In 2010, Groove Logic created Pure Logic Recordings and released several songs and albums for up and coming artists from around the world as well as himself under his artist handle.
Adam spent 8 years of his career working for Apple where he was trained and certified as a Logic Pro X certified trainer and engineer. Part of his job was education and troubleshooting of the program on top of creating audio content for in house presentations.
After spending time in South Florida and the Florida Keys he is now living in the Pacific Northwest and going down the blockchain rabbit hole, he has taken his years of knowledge in the industry and merged it with his new love of blockchain, thus BlockTunes was born!
Follow on BlockTunes.Social
Support Groove Logic
Hive and Hive Engine token payments are fast and have no gas fees. If you don't have a Hive account, Sign up for your Hive blockchain account today!
You can use Tribaldex.com to deposit some of the top cryptocurrencies like BTC, LTC, BNB and BUSD on Binance Smart Chain and more. You will receive SWAP tokens that is a Hive Engine backed version of the deposited asset. They can then be traded for Hive or many other Hive Engine tokens.