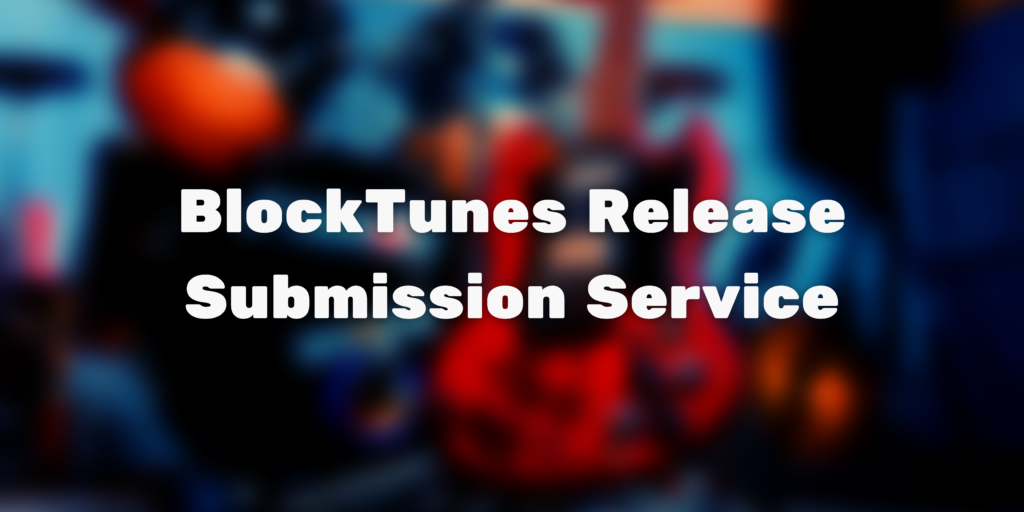 Releasing your music with BlockTunes offers you something that no other label or distribution company is offering! We not only can get your music into the same places as they can, but we also offer blockchain solutions like NFTs, but we also offer blockchain solutions like NFTs, merchandise, professionally written reviews, and more! Artist keep 100% of their rights to their work, we just do the heavy lifting for you.
We have 2 levels of service that we offer…
BlockTunes Standard Release
We have the BlockTunes Standard Release, which is an in-house only release option, but has allot of value that comes along with it. You can use this service if you do not intend on releasing to the mainstream platforms, or you have already released it through another service like CDBaby or Tunecore, etc.
Here is what you get with the BlockTunes Standard Release Submission Service:
— 1 bTUNES token for a single or 3 bTUNES tokens for full album, which gives you ownership as an investment in the BlockTunes DAO and will be eligible for monthly dividend payments. If you have collaborators, this token can be split and sent to different addresses representing the percentage of collaboration and ownership, so all members of the team can get paid from the DAO. More tokens can be added to the order by selecting multiple quantities when adding the order to the shopping cart.
— Standard download product setup on your artist store. This is set to a price of $1.00 by default but can be changed by the artist later in the Artist Store Dashboard. This song is fully streamable as well. The download purchase allows people to actually purchase and download a copy. The payment from the DAO you will receive monthly will more than cover any streams you would receive.
— 1 TShirt and 1 Hoodie product with your album cover art added to your artist store store here on BlockTunes which also includes the release as a package. Cover art needs to be a minimum 1400 x 1400 at 300 dpi for print purposes. Larger is better.
— Creator's Copyright edition NFT minted directly to your BlockTunes BSC wallet. This is a blockchain representation of your creator copyright. Similar to the 'poor man's copyright', just on a transparent blockchain. You will want to keep this in your wallet.
— Royalty free download packages that include an NFT with Royalty Free Rights to use the work commercially. This will be priced at a fairly high rate. These will be bundles that will include the NFT with the downloads and sold on your artist store. These will be held in the BlockTunes wallet due to the way we have to sell them on the store. ** COMING Q3 with new EDITION NFT contracts.**
— Professional promo review post written about your release which is also shared on our Hive, Twitter, and Facebook pages. This will help give your release a little bit of a promo push! Our writers are experienced and will give your work the best review possible!
BlockTunes Plus Release
We also have the BlockTunes PLUS package that has everything you need in a release service. You get everything that the standard in-house package offers, plus we distribute your music to other Blockchain services like Audius, the Hivelist NFT marketplace, and more in the future.
But that's not all! With the BlockTunes PLUS package, we also get your music distributed to the mainstream platforms like Apple Music, Spotify, Amazon, YouTube Music, TikTok, and more using Emanate, which is also a blockchain streaming service on top of being our distribution partner. With this service, we handle your release and payments just like a label would, making it easier for you to just make and release music! We also handle getting your ISRC code that is needed for each track in your release. These costs are built into the cost of the release where most places will charge you extra!
Unlike other platforms, your submission fee is more of an investment. The funds are used to create the NFTs that come with your release and the rest is invested into the BlockTunes DAO and put to work in our interest generating DEFI yield farms. Artists can select additional quantities when they order their release. This would get you more investment tokens, thus adding more funds into the DAO, thus generating more income in the long run!
On your first release, you will receive 1 BTD token to your BlockTunes wallet. This is your governance token for the BlockTunes DAO and is your voting weight in the DAO (decentralized autonomous organization). This token is issued only through a DAO vote and happens only on the first release. This helps to decentralize our DAO and gives the artists a vote and say so in what happens, versus the traditional industry where you get no say.
*** IMPORTANT – If you use our BlockTunes PLUS service, we need to be the only distribution service you use for that release as we will be handling the mainstream distribution. ***
The BlockTunes release submission service takes the hard work out of posting your music to BlockTunes and other platforms. All you do is, make music, pay the fee, fill out the form and we do the rest!
As always, 90% of all sales from the BlockTunes store will go to the artist! The other 10% will go to the DAO, with the exception of merchandise products through our print on demand service. That is a 50/50 split after all production, taxes, and shipping costs.